I get to take care of my father for twelve days!
I dropped Mom off at the airport today. We had a very simple goodbye for what seemed to me a big farewell. She would be travelling to Finland for the next 24 hours for a twelve-day vacation while I stayed home and house sat. It sounds simple to take care of a house for twelve days, but it was what was in this house that really needed the sitting. This was why I had to kiss her cheek from the car window instead of getting out and giving her a proper hug. I couldn't leave the car for fear that my blessed, disabled father would exit as well, confused, as usual, thinking it was time to get out and walk around when all we were doing was saying goodbye. In this moment it sank in that I really wouldn't be able to leave the house either--for twelve days. Frontotemporal-lobe dementia is no simple disease, and at this advanced stage it requires full-time babysitting.
Long story short, Dad was diagnosed with the disease about seven years ago. He was pretty quirky before then, like a mad scientist, which we contributed to his advanced studies in physical chemistry, in which he earned a Ph.D. back in '84 (I made up that date, but it was sometime around then, I think). We knew he was weird and we let him do crazy physical and chemical experiments, but when he thought it was okay to bring home roadkill and sprawl it across the kitchen counter, we knew there was a serious problem. He was diagnosed with frontotemporal-lobe dementia (FTD) in 2005 (?) and is now at the point where he can only say a few words and many normal daily activities confuse the hell out of him. Just today when I told him to use soap after going to the bathroom, he brought the liquid soap dispenser up to his face and started pumping it into his mouth. Luckily, nothing came out. It drove home the idea that I really need to watch everything he does.
Usually, he lives with my mom who brings him to an adult care center each morning so she can work full-time during the day, and then she takes care of him at night and on the weekends. Now that she's taking a much-deserved vacation and visiting my brother in Finland, it's my filial duty to care for him and make sure he doesn't kill himself or destroy the house.
Since I'm used to a lifestyle of non-stop activities, staying at home does not seem compatible with my sanity. So I'm giving myself as many projects as I can to keep me distracted and pass the next 1.5 weeks. I love cooking and haven't done much of it this summer, so my goal is to cook something fabulously new every night! Another part of this goal is to make a huge mess in the kitchen so I can kill several hours cleaning up. The other part of that second part is to leave the mess splayed on the counters overnight to spite secretly my mother who perpetually demands a spotless kitchen (mwahahahaha!).
Recipe #1: Spiced Summer Squash with Garbanzo Beans
~~~~~~~~
~~~~~~~~~~~~~~~~~
~~~~~~~~~~~~~~~~~
~~~~~~~~~~~~~~~~
Spiced summer squash with garbanzo beans. I didn't take this picture, but this is
almost exactly what mine looked like. Just imagine yellow squash slices with the beans.
Rating
: Pretty freakin'
good
. Jeff and Kat agree!
Comments
: I like the combo of cinnamon and cumin. I picked this one because I wanted to make chili but the only kinds of beans we had were garbanzo and I wanted black and kidney bean chili. I was sad but then noticed we had too many garbanzo beans, and also an influx of yellow squash. I promptly searched for a squash/garbanzo recipe and this recipe stroked my fancy. I had all the ingredients, too. I will definitely make this again!
Recipe #2: Five-Minute Carrot Cake~~~~~~~~~~~~~~~~~~~~~~~
~~~~~~~~~~~~~~~~~
~~~~~~~~~~~~~~~~~
~~~~~~~~~~~~~~~~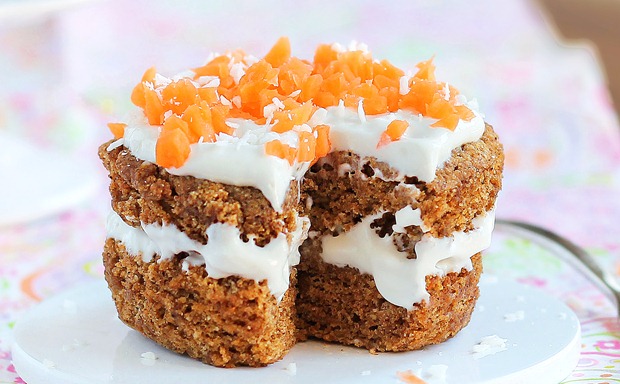 Mini vegan carrot cake. Mine had almond butter in the middle
and no diced vegetable on top, but otherwise looked very similar!
Rating
: Good but
I've had better
Comments
: This was good but I think could have more carrots and pumpkin pie spices. Kat and I baked them in large muffin tins. We put almond butter in the middle and "buttery," sugary frosting on top. Overall they were really rich! Jeff couldn't bear eating a whole one. My first impression was "meh" but I found myself wanting to eat more. That might have been because I just went running. In any case, I'll probably look for a different carrot cake recipe next time.